If you have noticed it's been a tad bit quiet here lately, its because I just finished my very first boutique sale with Clever Pink Charm! I attended the La Di Da Boutique in Glibert, AZ as a vendor. Coming in as a newbie, I did MAD research to find the best tips for new comers. I wanted to share my experience with others who may be looking into doing  a boutique.
My best boutique and craft tips for newbies:
Put some effort into research. This means researching the demographic of the boutique by Googling for reviews from previous years to finding awesome boutique displays. Pinterest is a great resource for displays, don't completely steal an idea but think of ways you can take that idea and make it work for you.
What's happening behind the scenes? As a vendor, I think this boutique was awesome to me thanks to the gals who run it. You did NOT need to be present, the customer got to check out up front which meant I didn't have to be there the whole time. They also processed all payments  so I didn't have to worry about it, they also took care of advertising. I think one of the best things is they did not allow multiple vendors of the same items. Also, the percentage was laid out up front so I knew exactly what they would be taking.
Talk to others directly who have done boutiques for a while in your area. Your best resource for events in your area are others who have done it. I met some fabulous ladies who shared their best tips with me regarding boutique events throughout the year locally here in the Valley.
Have a large inventory. Have lots of everything, I found that what I thought would be the most popular was not, it was one of the items I didn't think would be! So be prepared to sell lots of anything and everything!
Look fabulous and inviting! Have your display stand out with colors and displays that match your brand. Get them in with a freebie or a low priced item. This doesn't have to be expensive, a lot of the items I used I borrowed from friends and family like tables and the tent. As for the rest, I shopped at thrift stores! In fact that jewelry stand you see above is one I got from a junk in the trunk show!
Don't be surprised. Find out as much as you can about your setting and how much space you have to work with, what's allowed and what is not. I recommend doing a mock set up prior to your boutique date.
Sharing is awesome. My mom went into the booth with me with her soaps and we divided the vendor fee, it made it a little better to do! Also made it easier for us to split times on who would be there when.
Be attentive and yet a fly on the wall. I made sure to greet everyone who came in yet I didn't want to seem like a push salesman so I asked how they were, if they found some good stuff yet at the boutique and then kept busy making my jewelry. I heard lots of comments about what people liked in my booth and the crazy thing was I don't even sell those items in my shop! Those comments are leading me to come out with a brand new line next year!
Keep them coming back for more. Put out business cards and be sure to have a sign up for email newsletters. BTW, don't use those printable business cards, mine came out really, really bad. Just to save a few bucks? Not worth it! Have them printed in advance at a printer or at a site like Vistaprint.com.
What's your time worth?  Think of all the hours of prepping you will do for your boutique sale. This includes creating inventory, preparing your booth, pricing items, setting up, working the booth, take down etc. Figure out if that time away from your family is best for you. Also consider the vendor fee, gas etc.
You can't do it all yourself, don't kid yourself. I did a lot of the prep work myself but really needed help. I employed the Clever Tween to help me along with my mom but really I could have used more help!
Expect the worse, hope for the best. This isn't' really a strategy, more like a mindset. If you are mentally prepared to do great and not so great, then you won't feel disappointed.
Support Others and Trade too! I went shopping at this craft fair because I wanted to support the hard work of others. Then, I was introduced to the world of trading! Now I've traded store credit before but I didn't think to actually trade for items! I got some really cute things thanks to some talented ladies!
I may have walked away with a sore back and extremely tired but I loved it. If you are looking to do your first boutique or craft fair, good luck!
Here are some of my favorite articles on prepping for a craft show: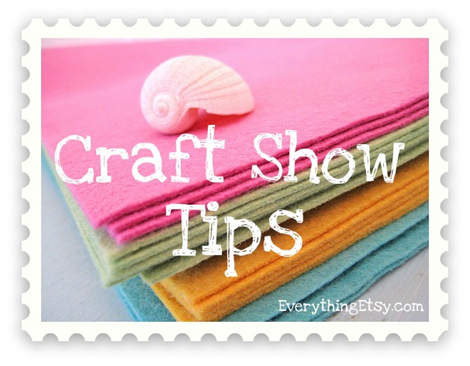 http://www.everythingetsy.com/2012/02/12-craft-show-tips/
http://www.sugarbeecrafts.com/2011/09/craft-fair-booth-set-up-and-tips.html
http://www.polkadotmom.com/2008/07/craft-show-tips-from-crafty-texas-girls.html