Looking for a Smore's cupcake recipe that tastes exactly like S'more's? Here you go!


Last week I told you about inviting my dad over for a Western movie night. This weekend we celebrated Father's Day of course and I made S'mores Cupcakes. I wanted to create a cupcake that would remind of days when I was younger. We did a lot of camping and you can't go camping without Smore's!
S'mores Cowboy Cupcakes:
Ingredients for cake:
2 cups of flour (sifted)
1 cup of granulated sugar
2 eggs
1/4 cup butter (r0om temp)
3/4 cup buttermilk
1 individual unsweetened applesauce
1 tsp baking powder
1/2 tsp baking powder
1/4 tsp of salt
1.5 tsp of Vanilla (BTW I used my homemade Vanilla for the first time and YUM)
1 tsp of cinnamon
Inside:
Marshmallows (small)
Hershey's Chocolate Bar (I used a large Hershey's bar for the entire cupcake). Melt approx 1/2 cup of the chocolate.
Frosting:
1 cup of unsalted butter at room temp
1.5 cups of powdered sugar
1 small tub of marshmallow cream tub
1/2 tsp of Vanilla
Graham Cracker Crust
8 Chocolate Graham Cracker "sheets" (ground up by a food processor)
3 Tablespoons of unsalted butter, melted
3 Tablespoons of granulated sugar

Directions: Heat oven to 350 degrees.
Crust: Mix ingredients together and press into bottom of cupcake liners. Approx 1/8th to 1/4 inch high.


Batter: Cream butter, eggs and sugar. Add buttermilk. Stir in dry ingredients finishing with folding in vanilla and applesauce. Pour enough just to layer over the graham cracker crust.
For the middle:
Add a spoonful of melted chocolate and a couple of small marshmallows. Top with remaining batter finishing at about 2/3 full.
Bake for approx 18-20 minutes.
After cooled, prepare frosting:
Mix butter until fluffy, then slowly add the powdered sugar and then the marshmallow cream and vanilla. Decorate cupcakes with frosting, then garnish with a piece of the chocolate bar, marshmallows and cinnamon.
Here is the middle, mmmm

Here are my thought son the Duff Cake Tattoo Sheets:
Way overpriced. I bought this actually for $2 on clearance and that was an acceptable price. These retail between 12 and $15. It just comes with two sheets, doesn't taste too great and you have to cut out the decals yourself. I will tell you right now, I cut like a 5 year old.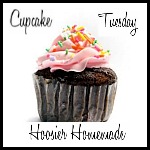 ~ Linked up at the delicious Cupcake Tuesday at HoosierHomemade.com!