Pina Colada Cupcake Recipe
Oh how I dream of getting to go to the beach, just a mini vacation where I have no worries. Although I have never had a drink on the beach I imagine I would love to enjoy a Pina Colada. This weekend I attended craft meetup with some other lovely local ladies and decided to make Pina Colada cupcakes because it's probably the closest thing I am getting to a vacation right now, lol.
Recipe: Pina Colada Cupcakes
Ingredients:
You can use a basic white cake mix or this is what I used:

2 Cups of flour

1 cup of sugar

2 eggs

1/2 cup of butter

1/2 cup of coconut rum (Malibu works great)

1/4 cup of pineapple juice (I used Dole Pina Colada juice)

1 tsp of baking soda

1.5 tsp of baking powder

1/2 tsp of salt

1 tsp of vanilla
Directions:
Cream butter, sugar and eggs. In a food processor, sift flour and mix all dry ingredients in a large bowl. Then add butter, sugar and egg mix. Lastly add the rum and vanilla, bake at 365 degrees for 18 – 20 minutes.
Pina Colada ButterCream Frosting
3.5 cups of powdered sugar

1 cup of butter (unsalted at room temp, you have to use butter. No substitutes!

)

4 tsp of coconut rum

1.5 tsp of vanilla
Directions:
Whip butter with mixer, then slowly add powdered sugar and then add rum & vanilla.
Frost and done! I bought the parasol umbrellas at Smart and Final for only $3.99 for 144 of them. I am pretty sure they will last forever, lol. I brought these to Mom Endeavors house for the Elmer's #CraftandTell party! You can see the fun here (enter her giveaway too): http://www.momendeavors.com/2011/06/elmers-craft-tell-party-recap-giveaway.html
What I would do different next time: I thought these were a little dry, but everyone else seemed to love them. I didn't add applesauce like I normally do so I would add that or sour cream because I think the alcohol dried them up a bit.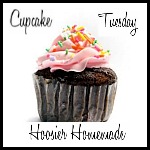 I am linked up at Cupcake Tuesday at Hoosier Homemade, check out her site for delicious cupcake recipes!