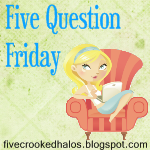 Well hello, Friday! I haven't been feeling too hot this week so I haven't really blogged (or done much to blog about). We do have a few highlights from the week though.
My 7 year old son swallowed a dime. Yep, a dime. He called me in a panic from school and when I asked him why, he said "Mom, it was an accident". Ah yes son but why was it in your mouth? Kids. Then I realized, we actually have survived up to this point with an 11 year old and 7 year old with no swallowed foreign objects. High five! I don't want to discuss the process in which we have to make sure it comes out. *eh hem*
We survived the Jr Highers conference. Her teachers had all positive things to say and she is doing well. Couldn't ask for more (except maybe a little more studying in math). What was funny though was that evening we got a recorded message from the school saying  that my child was on academic detention and needed to stay after school. Luckily, I knew it was incorrect as I just met with all of the teachers and I am pretty sure they would have said something. I called the school the next morning to verify the error and apparently everyone got that message. Oh those poor kids who got scolded because of that error.
No more meds, mom. In short, for the past 5 years my daughter has taken medication for epilepsy/seizures. She has gone now two years with no seizures and the only way we can see if she has grown out of them is if she stays off of meds. It has been scary, so scary in fact that we made the plan with her doctor back in June to go off the meds but I procrastinated and didn't pull the trigger until this week. Needless to say my sleep schedule is funky because I have two kids on air mattresses in my room as we monitor her. Little man didn't feel it was fair if sister got to sleep in mom's room and he didn't.
My craft room/office is finally almost done! I can't wait to share the final pics because it's coming together nicely. I mean it's only been what nearly 4 months since we moved in here?!
Spring is here, I bought some flowers to plant and some basil for my garden. While I don't look for the hot Spring weather we have here, I will take the cool mornings and evenings that we do have.  Of course that means short weather is here and my legs are wickedly white. I should probably do some yard work in shorts this weekend.
Tomorrow we are volunteering with the church we attend to do a service project in a mobile home community, I am excited for the kids to experience in doing something for others, hopefully they will not be too cranky when they have to get up really early on a Saturday.
Oh and I am almost at week 3 with my soda cutdown, I have literally only had a few sips of soda this week.
My week I guess was more adventurous than I thought! So I stumbled upon an blog called fivecrookedhalos.blogspot.com where she does a 5 Question Friday Meme. I have wanted to do one of these so here we go!
1. What's your favorite way to spend down time (alone or with a significant other)?
What does that mean? Huh, no kids and work I assume? Well I would say getting a pedicure or having sushi with Brian. I do go running and that is kind of alone time with me and the dog.
2. Are you the kind of person that wants things more as soon as you know you can't have it?
Yes, I'm not a patient person I guess. It frustrates me when I can't get something I really want, because then I really want it more.
3. If you were given $1000 to spend on yourself, what would you buy?
How much do jacuzzis cost? If not that then maybe a massage for a month for a year.
4. Do you ever go out to eat by yourself?
No, I would be incredibly bored! I have gotten take out to take home and eat by myself though.
5. What company would you want to do a blog review for?
Would it be greedy to say Apple? A cruise line or some exotic resort in the Bahamas?
Okay but really, I don't do a lot of reviews though I would love to review a good cookbook, maybe Kitchen-Aid mixer accessories. I've tried to get into Wilton's ear for quite some time with no luck.
Well there it is folks, me wrapped up in 5 questions.