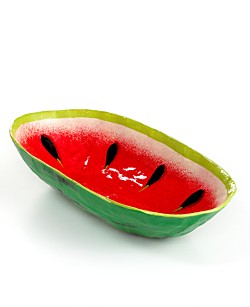 On Tuesday, January 12, 2010, an earthquake with a 7.0 magnitude struck Haiti. By January 24 at least 52 aftershocks measuring 4.5 or greater had been recorded. The Haitian government reported that an estimated 230,000 people died, 300,000 were injured and 1,000,000 made homeless.
The devastating earthquake of January 2010 has made it virtually impossible for Haitians to make a living. Raw materials have been wiped out, there are a lack of secure and sanitary conditions and little funding to support economic relief.
I know as someone who is always moved to help others who experience a tragic event, I am always looking for ways I can help those who are effected.
Macy's is featuring Heart of Haiti, a project where artists from Haiti are selling items they have made out of recycled items. Purchasing one of these handcrafted masterpieces directly benefits Haitian artisans by allowing them to support their families with dignity and purpose. This initiative offers the first sustainable income since the earthquake, enabling artisans to repair homes, pay school fees and feed and clothe their families. With steady income comes better nutrition, improved education and access to healthcare.
Heart of Haiti also offers new opportunities for artists to collaborate with US designers, strengthening artisan associations and inspiring and energizing their communities. Men and women are working together, gaining confidence and hope for the future. Master artisans who planned to leave the country are now staying behind to train the next generation.
Here are some of my favorite items from the Heart of Haiti Shop at Macy's: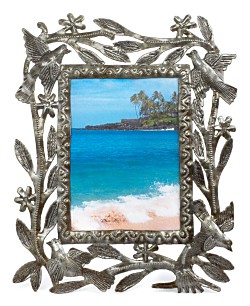 This beautiful frame made from recycled barrels is only $25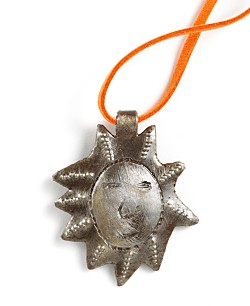 Pendants starting at only $10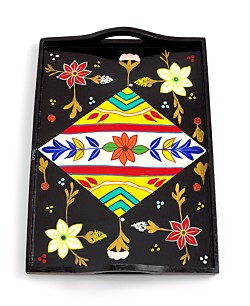 Heart of Haiti Tray $25
See all the projects for sale here: Heart of Haiti ~ Shop for a Better World
If you click HERE, you can meet the artists behind this amazing project!
Where can you find these in a Macy's by you? Check HERE for locations!
More information on the the Heart of Haiti founder and Fairwinds Trading CEO Willa Shalit can be found
here

.
You may also include information about a special blogger tour of Haiti with Willa Shalit. Details can be found
here

.
I was selected for this very special "CleverHaiti" opportunity by
Clever Girls Collective
, which endorses
Blog With Integrity.
All opinions are my own.